The Avantage Reply partner, who joined the firm in 2018, spends around half his time in the office (and the other half at client sites). Outside his window, the tram runs past the car-packed Glacis. Is it annoying when the Schueberfouer is on? A little, says Gavray, noting the late-afternoon festival noise. ("This is the time of the year when you wish you were somewhere else!") But it's also an excuse for team outings to the fun fair, he says, adding that generally speaking the firm's location is excellent. "I can walk to most of my clients. Or take the tram… and [parking] is easy for clients visiting us."
Gavray shares his office with another partner--who had cleared his own desk in anticipation of Delano's visit--and works alongside some 60 employees at the consulting firm, which is made up of Avantage Reply and e*finance Reply, regulation specialists respectively in banking and asset management.
Gavray kicks off the tour of his desk with an object not on it, but behind it…
Company banner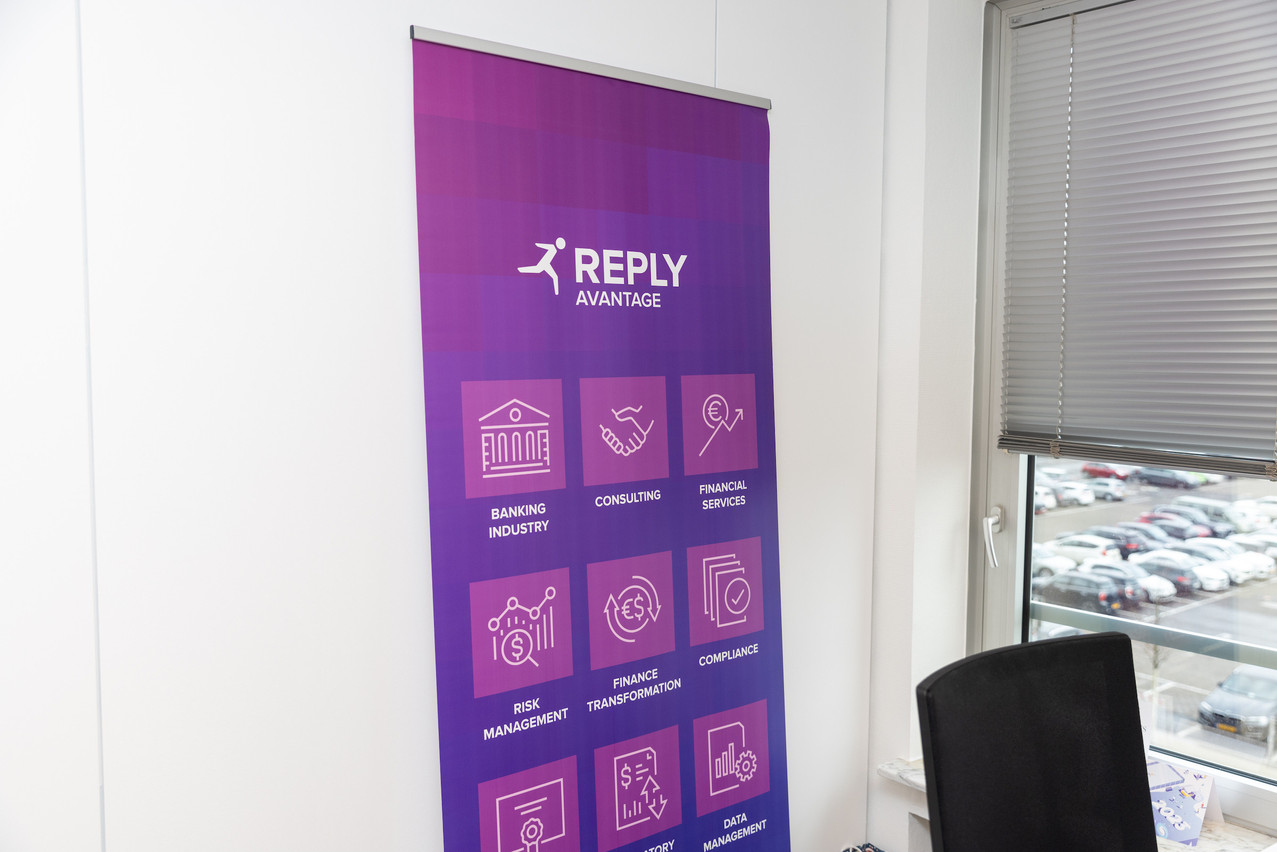 "I always have this feeling--when you use this functionality in Teams, you know, a fake background--that you have something to hide," says Gavray, noting how virtual calls have become commonplace. "I don't know where they are, I don't know what's behind them… I don't want to give the same impression to my clients."
In lieu of fake or blurred backgrounds, then, Gavray has installed a company banner behind his chair. "People can actually see that I'm in my office and not on the beach." 
Mug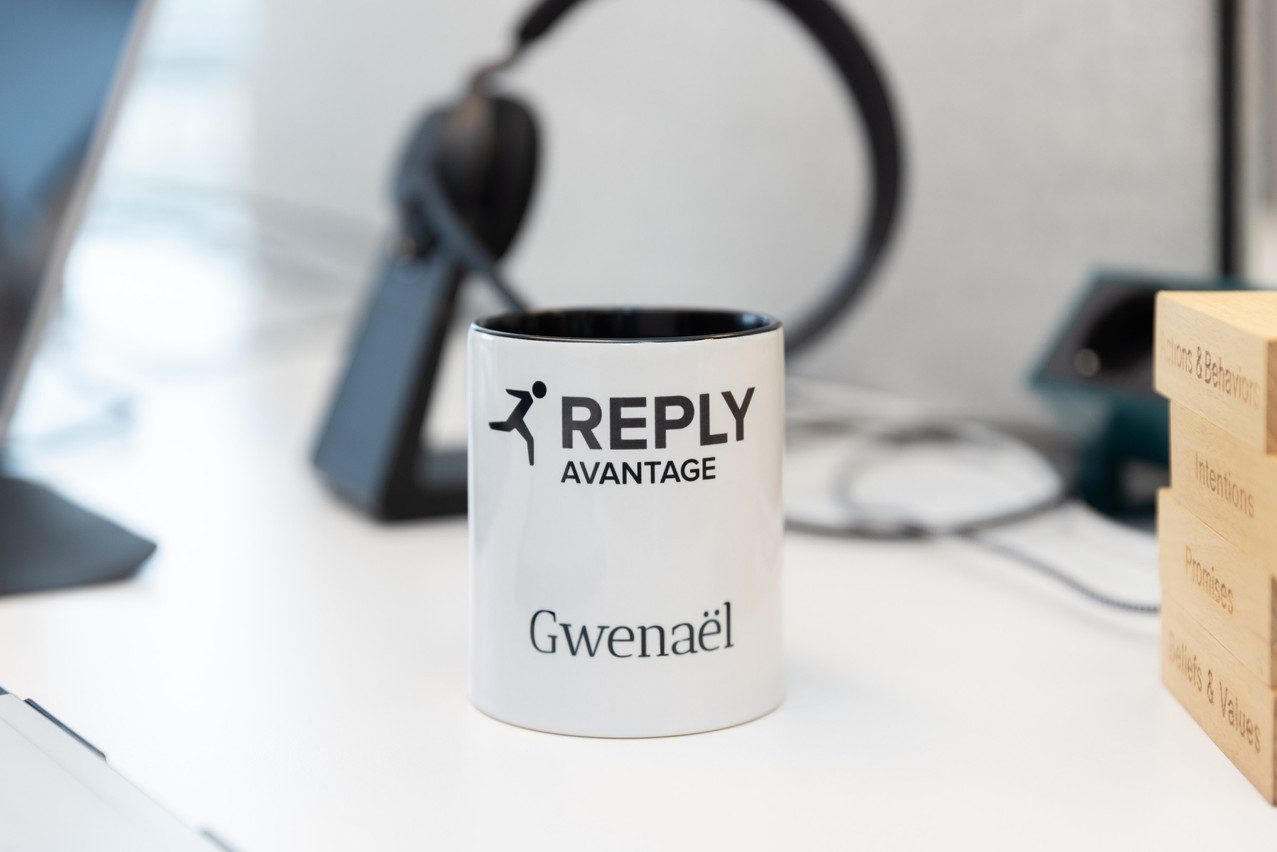 Everybody at Reply Luxembourg has customised company mugs, originally given to celebrate moving offices (down a floor) in 2022. They are also a nod to management's acknowledgement of a major employee demand for the new space: get a better coffee machine. "This was requirement number one," jokes Gavray. "You wouldn't imagine. The coffee machine had to be improved."
The fancy new machine, says the partner, is "to show that we actually listened to them… that their requirements were taken into account."
ReMarkable tablet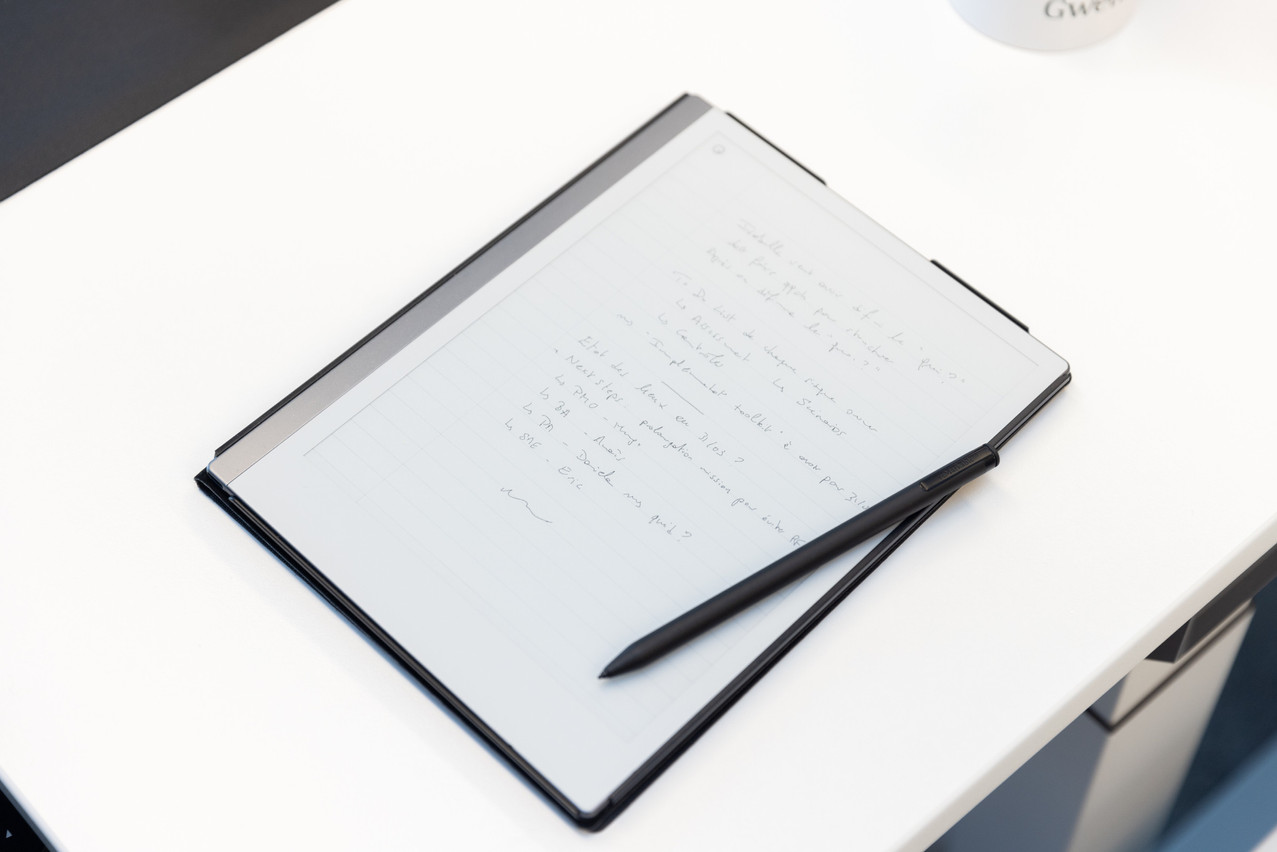 "We went paperless two years ago," says Gavray, bringing us to the next object on his desk, a reMarkable tablet that functions both as an e-reader and as a virtual pen-and-paper. "It feels like you're writing on paper." Since getting one for everybody at the office, says the partner, they haven't ordered any books, paper or pencils.
"This has changed my way of working."
Family photo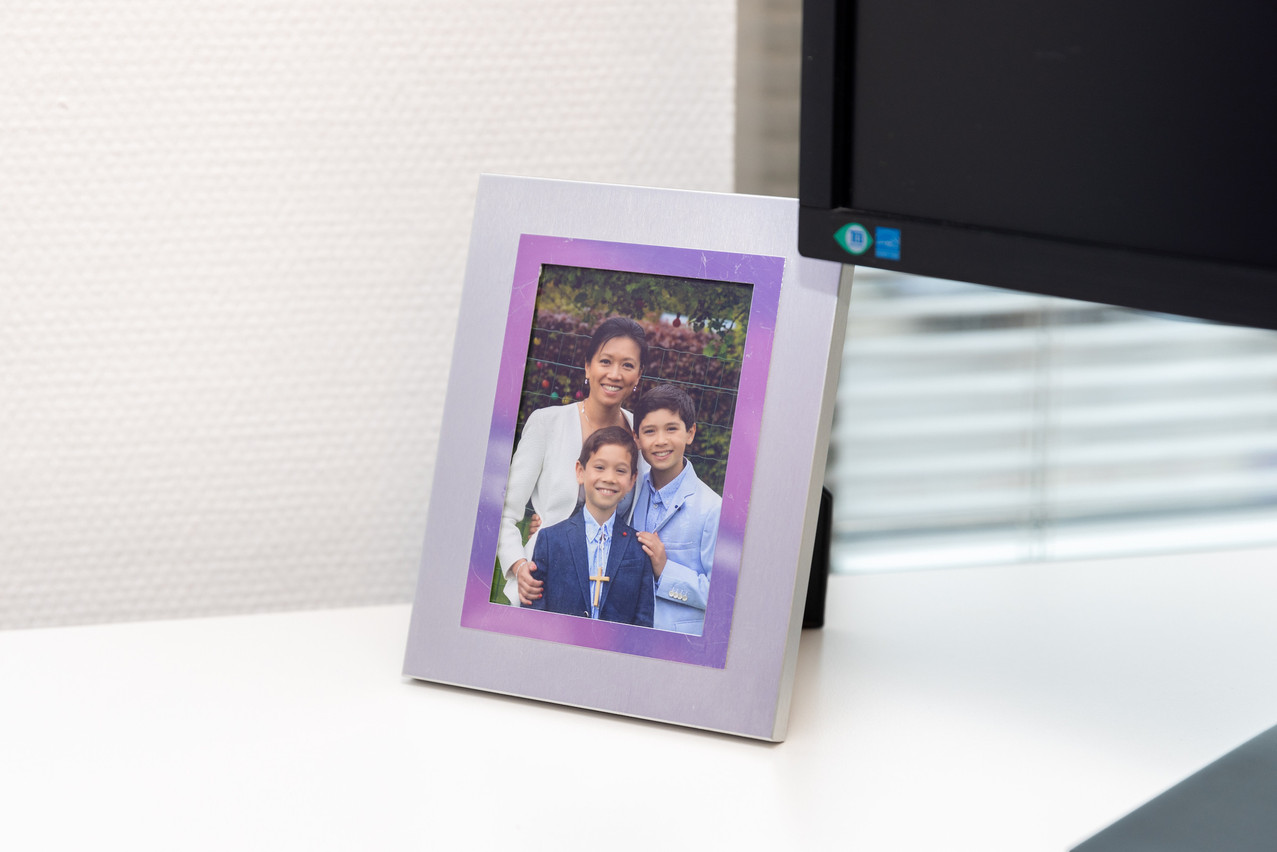 "They're a bit taller now… they grow so fast," says Gavray of his children, looking at the photo of his wife and two kids on his desk. "I change [the photo] every now and then. This one probably needs an update."
Leadership toy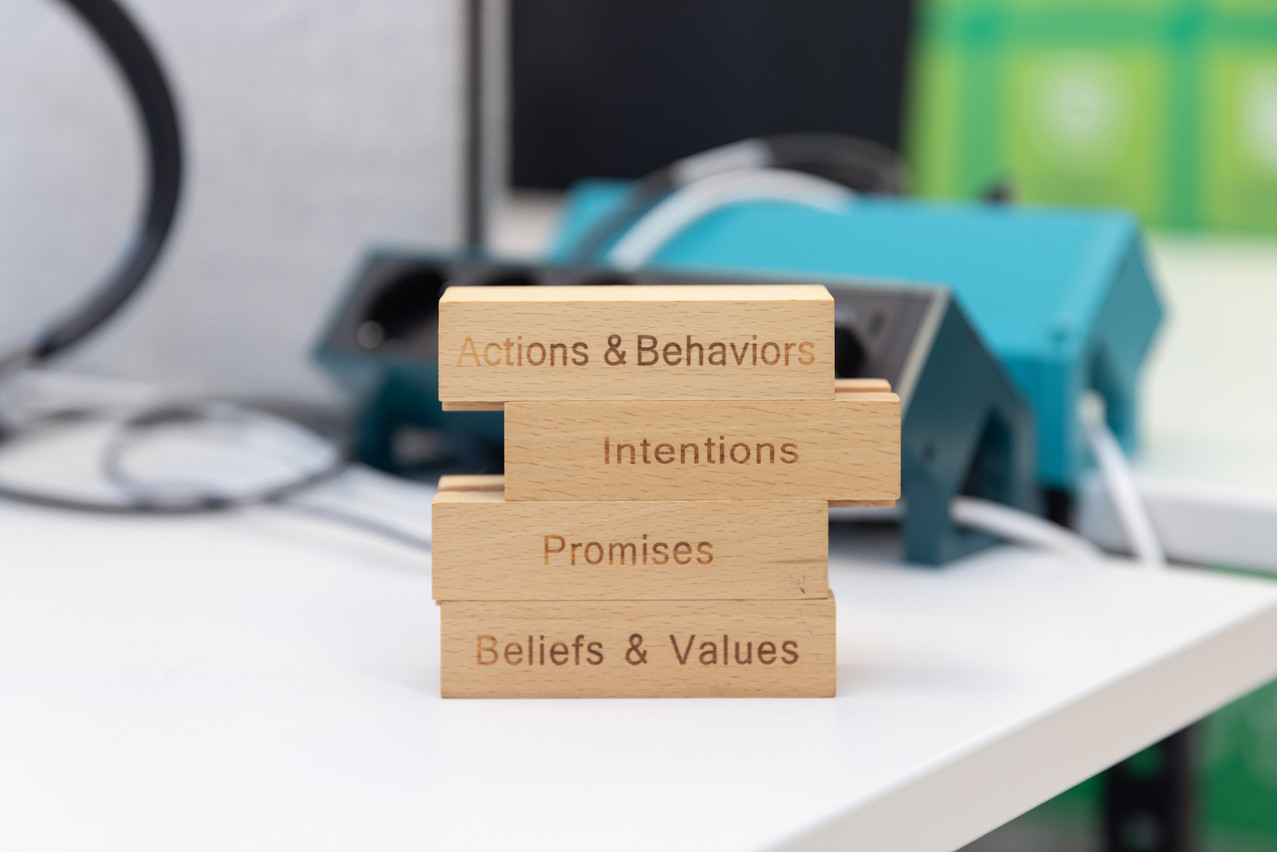 The oldest object on Gavray's desk is a wooden tower made up of four blocks that can slide left or right, i.e. in or out of alignment. From bottom to top, the four are labelled "Beliefs & Values," "Promises," "Intentions," and "Actions & Behaviors." The tower was given to Gavray at a training some 16 or 17 years ago, when he was promoted to manager during his time at Accenture.
The tower is "to remind us that whatever decision you take, you have to be consistent," he explains. "That really resonated with me." The idea is that your values and beliefs--the bottom block--don't ever change, whereas your promises, intentions and actions are layered on top and, if you're not careful, could fall out of line. 
"You always have to make sure that whatever you tell people is in line with what you really believe," he says, "what you really intend to do. And then the action has to follow."
Coatrack-turned-tie-rack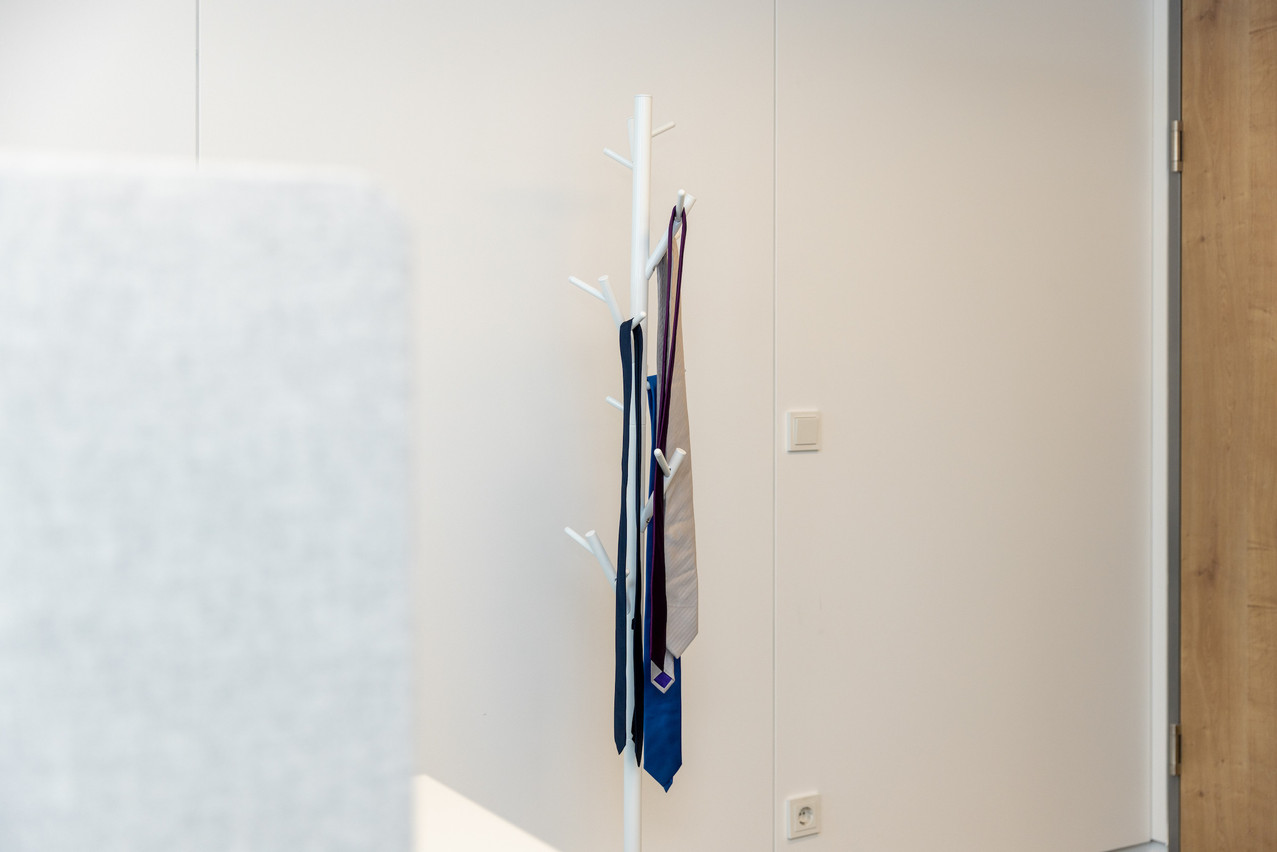 Twenty years ago, explains Gavray--at the start of his career--it was unthinkable to leave for work without a tie. Times have changed, however: after being called out directly by a client for wearing a tie when nobody else was ("it was a very short conversation, but really straight to the point"), Gavray now defaults to not wearing one.
But some clients still expect it, which is why the partner keeps several in his office for those occasions. "I have different colours, so they match my suits."